by
Weston Cutter
So, briefly: there's this, which is always cool, and also this, which was super cool, and this, which I've been excited to see into print for a year now—as you'd imagine/guess, Helen's fun as hell, and 'lively' (read: she is mercifully bullshit-free), and it's super rad to have something in the Believer. Thus concludes the updates part of the program.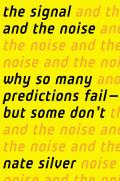 The Signal and the Noise by Nate Silver
Had I been smarter I'd've reviewed this before election day, given the drumbeat re: his prognostication abilities. Fortunately for him (and math, and the country), 538 was, as most of us could've guessed, tremendously accurate, and you've got to imagine that Penguin, now, is even more thrilled to have published this: imagine how quickly the thing would've been remaindered had his modeling shat the bed. Regardless of what you think about Silver and 538 blog, the dude's a master at math and statistics. Indeed, for some of us who love almost nothing (at the abstract level) more than the calm, satisfying beauty of arithmetic, statistics is the most glorious manifestation of the art: interesting and slightly abstract but still grounded in the numbers one first learns in Kindergarten.
The Signal and the Noise is, I think, as good as Thinking, Fast and Slow, and perhaps would be a good buddy book for that one: between the two, the reader's all but forced to consider and contend with certain blind spots—in the case of Thinking, it's confirmation bias; in Signal, it's the trickiness of numbers, and how (to use John Allen Paulos's term) innumerate most of us are. For instance: we get pissed about the weather forecast being wrong, but forecasting is getting better—and, for it to get way, way better, to get it to the ways we want it to be, it's an uphill fight against exponential difficulties (literally: it's not a 1:1 thing of, well, there's more info, we should have better info: forecasters, to make even modestly better predictions than the present ones, need massive amounts of data). Silver's book tackles weather, tackles earthquakes, tackles baseball, and offers what's gotta be one of the most stomach-churning chapters ever in anything, which is about a professional gambler. We know this stuff intuitively already: that something with better-than-50/50 odds is something which, in the long run, is worth taking a gamble on, yet imagine dropping six-figure sums on games in which yr chance of winning is close to 65%: a good bet? Sure, technically, but, still, almost four times in ten you'll be out yr cash.
There was plenty written on this book when it came out, of course, as there should have been: it should be required reading for this math-challenged country in these math-fearful times. That Silver's a commie liberal bastard[1] at the NYTimes doesn't matter in the slightest: he's a hell of a statistician, and this is a hell of a book.
All the Odes by Pablo Neruda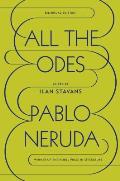 This is exactly as the title claims and explains: all the odes. It's a curious book—good, certainly, and worth existing, and certainly seeing all of Neruda's odes in one mammoth collection offers something, if nothing else that he was awesomely devoted to a form and took it for rides and workouts that helped the rest of the 20th century make better use of it. Which is great. But the completist aspect of all the odes is kind of weird, and there are weak and strong odes in here, plus there's the fuck-the-greatest-hits aspect of any "collection," no matter how complete: you can, for instance, through purchasing two multi-disc box sets, own the entire output of Led Zeppelin, but most of us'd contend that knowing Led Zeppelin III as an actual album's crucial (fill in the band of yr choice there: Beatles, Stones, Springsteen, Devo, whatever). The odes were originally in other books—ones Neruda chose and gathered, and there's something (at least to this reader) to that, something important. Maybe it's just me. Who knows. It's a fine book, certainly, but promise that if you buy it, you'll also buy one of his individual collections from, say, New Directions.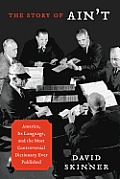 The Story of Ain't by David Skinner
This is a bio of a moment and movement and book, the book being Webster's Third, which book you may, given that yr reading this on a nerdy book review site, know something about. If you're like lots of folks, the entirety of what you know re: this book comes from having read Wallace's "Tense Present"—this is the dictionary that came out and laid the groundwork for what Wallace termed the usage wars, the split between de- and prescriptivists (descriptivists: folks who think that anything used in common American speech/vernacular is suitable for dictionary inclusion; prescriptivists: folks who believe English is a threatened glory under assault from mouth breathers who say "impacted" and who use borrow where they should use lend and etc. etc. etc.). It's a fairly great book, honestly—funny and lively and contextualizing, making clear how this moment of ain't was arrived at to begin with.
---
[1] (As, for the record, am I: that's out of affection.)