by
Weston Cutter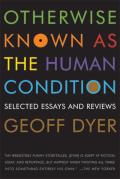 Otherwise Known as the Human Condition by Geoff Dyer
I mean this in the best way: I'd read just about anything by Dyer (or anyway would try to read anything possible by him—I picked through Out of Sheer Rage and just couldn't ever find my way to hang with it [this may or may not have had anything to do with the fact that I'd read no Lawrence]), but I don't think I'd want to spend a ton of time with him. A weekend, okay, maybe 4-5 days, but I don't think I'd want to be super close thereafter. Understand: I laughed as much reading Dyer's Otherwise Known as I've laughed at anything recently (Fey's Bossypants included), but this is, let's not ignore, a book in which the author, in an essay regarding Def Leppard, puts on a pajama jacket and accosts a South Korean hotel waitstaffer. Note the emphasises phrase: dude owns a pajama jacket. Dude wears one.
This, of course, is the entirety of the spit-ball portion of the review: the reason one reads Dyer, in fact, is because of the pajama jacket—both that he'd own one and that he'd bother writing it into the scene. Dyer is somehow a perfect combination of de Botton and Hornby, but dude's smart in ways neither of the other two are (there's no way to dance out of that not looking like a dick, though I'm not trying to say anything about de Botton's smarts, or Hornby's; it's just that Dyer's dry, learned, snooty-but-omnivorous mind is rare—I can think of no writer whose high/lowbrow tendencies are so easily, seamlessly meshed). For instance: Dyer writes evocatively and excitingly on jazz, which is as hard to write well about as anything I know of (and not only does he write well on just jazz, dude writes well on one specific tiny jazz label, ECM, which label anybody can tell you is eminently worth coverage in long, rapturous essays). Here's why you need to pick up Otherwise Known (aside from the fact that it's Graywolf, therefore obviously): it's maybe the most casually smart book I can think of from the last 3 years. Not casually brilliant (I think it is, but let's not frieght the thing too heavily from the start)—casually smart. Wherever you're going in the next few months, whatever you're doing, I'll bet money you'll be better off with Dyer's voice in yr head, his words at yr nightstand.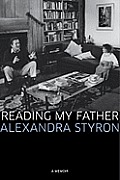 Reading My Father by Alexandra Styron
Just as good as all the reviews said it was. Also: one of the most weirdly nostalgic books of late—just because her dad was such a monumental guy, yet what writers are presently at work who'd maybe even conceivably be spoken of with such critical regard while they're working? And Franzen's not an answer: he's not a towering intellect and great prose stylist. He's just not. Hopefully Eugenides' and Sullivan's upcoming fall releases will put them both at the forefront.
Regardless: you owe it to yourself to read Styron's fantastic book about her father, and good Christ does she write good, generous sentences. The book, let's not kid around, has its fair share of shadow, but I dare anyone not to feel the overwhelming love suffusing the thing, and to be almost knocked sideways by it.
The Good and the Ghastly by James Boice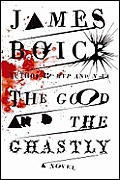 I've been reading Boice since I caught a story of his ages back in McSwny's I think 12, I'm not sure. Let's be clear from the start: Boice is a monster, as promising a prose stylist as, say, Blake Butler or whoever else you're most excited about at present. Boice's style is, yes, of the declarative comma-free sort, though his sentences quite often pick up and pack a sort of accretive punch (not always: I like Boice's stuff a lot, but I think his best books are still very much in him). Here's what I sort of mean: "One day he sat on the sofa and watched her play Visa Classical Music Piece #3 for him. He watched her become lost in the music. He studied every contour and glow in her face, as if to confine it forever to memory. When she was done he was near tears." By the by: The Good and the Ghastly's a post-apocalyptic gangster story set a millenium hence in which Visa owns everything. The story itself: yes, and buy into it, and be there. But you're coming for the words themselves, for the style.
But look at that quoted bit above: it's that one moment, of him studying "every contour and glow in her face." That's why you should buy this book and keep an eye on Boice: because, yes, sometimes the sentences don't impart the desired energy or speed or propulsion, but some of the quick zigs he executes—seemingly with tremendous ease, as natural as someone gulps cold water on a hot day—are as quietly wow-inducing as anything you're likely to come by. Check him now.