Get in on it: Cheryl Strayed, Dear Sugar, etc.
by
Weston Cutter
Unless you're living under a rock you know about Cheryl Strayed. Maybe, like me, you first found her name in this NYTimes review of her memoir Wild (because Garner is magic, and for at least this reader what he Says by and large Goes—dude's got my number), or maybe you were aware, if only faintly, that there was this column going at the Rumpus called Dear Sugar, and that the fucking thing seemed to be tracking with every damn reader and writer you knew. Maybe this was just me. Dear Sugar really did seem everywhere for a bit, and what it was was an anonymous advice column, and so of course part of the thing's appeal was the annonymity (in the same way, at least for me, this xTx person's fascinating, whoever she is), but the bigger reason for Wild's and Dear Sugar's success is the same as xTx's success: the writing's fucking great. Here's a paragraph at random from Wild: "I stood up when a small beat-up pickup truck packed full of people rounded the bend. It had Oregon plates. It drove straight up to us and screeched to a sudden stop a few feet away. Before the driver had even turned the engine off, the seven people and two dogs in the truck started leaping out. Ragtag and grubby, dressed in high hippy regalia, these people were unquestionably members of the Rainbow Tribe. Even the dogs were discreetly funked out in bandannas and beads. I reached to touch their furry backs as they darted past me and into the weeds." (p. 226).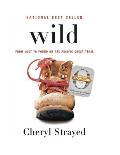 What's stilted and unfun about pulling quotes for book reviews is, of course, that any quote never does justice to the actual experience of reading the thing. Is the writing above glorious, rhythmically alive, sensual enough to draw the reader? I'd argue yes (as would, it should be noted, Oprah). But here's the thing: one cannot appreciate the value and glory of Wild without breaking down and reading the whole thing, because—and I'm not mad about memoirs, not by a stretch—for the first time in a long time here is a memoir to which such words as redemptive may be applied. Such words as maybe even wise. That word, especially, seems worth considering regarding Strayed, and let's take just a second with it.
(And I should be clear: though I'm from MN and a booster of all things MN and Midwest, and even though Strayed was there for parts of Wild's narrative, I don't like her just for that reason, though it's fair to wonder if that's enough for me to hype the thing).
I'm about to dive back into teaching—school starts in roughly 100 or so hours from right this moment (though between me and students lies a glorious weekend and, awesomely, a BDylan concert [I know, he's not some dazzler live; I've seen him before, but one must see mythic legends while one can]) and I would guess lots of us who teach are confronted each fall with questions about utility and value regarding syllabi and our classes. Because it's hard: I can get as pumped about fiction or poetry or whatever as I want, but, ultimately, I have to at least attempt to wrestle with the question of why is this stuff important, why someone should bother learning to read lit, to do stuff that's ultimately not just not useful but might be considered anti-useful. And as I've aged I've become more and more convinced that the value of this stuff, of the study or practice of literature, is about empathy: art makes our insides softer, makes us more receptive to and of each other. It's a neat trick. Lots of us, I'd guess, haven't even noticed it happening as we've read our twenties or whatever away.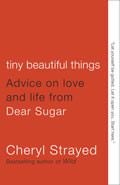 This inner-softening is the most glorious thing about Strayed's writing, and it shines hardest and brightest and sharpest in Tiny Beautiful Things, the collection of Dear Sugar writing (I can think, for the record, of exactly one other book of advice columns anyone should purchase). Because Strayed–as this unknown Sugar–absolutely exposed herself to these folks with their quesitons, and the resulting writing is lovely, but the resulting emotion—the feel of Strayed reaching out—is just transfixing. I'm not at all kidding: one of the most beautiful and moving descriptions of open, loving communication occurs in the column in which Sugar addresses a reader who happened onto her boyfriend in her panties. Sugar/Strayed's response is as wise and empathetic as anything I've ever seen. She's dazzling. There are, of course (at least for this reader) all sorts of questions raised about her willingness or ability to so expose herself because of the cushion of anonymity; that fact or aspect doesn't change how great it all is, but it's interesting that she was able to go so far and deep, and it's hard not to wonder if that was possible because Google searches of her name weren't bound to multiply exponentially in the immediate aftermath of the columns being posted. Again, this isn't any sort of dig; if anything, it's the opposite: Cheryl Strayed, with Dear Sugar, may have unintentionally reminded everyone of the tremendous power of anonymity, of shelving the burden of self and being able to just open up to others. Regardless: you need to read this woman. Asap.