by
Weston Cutter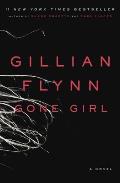 If you haven't already, you're about to see a whole lot of press regarding Gillian Flynn's Gone Girl—there's a full page ad in the latest NYorker for the thing, for instance, and it's just received what's sure to be the first of two glowing reviews at the Times, and right here to my left is the publicity info on the book and there were count'em four starred reviews of this book (Kirkus, Booklist, Library Journal, PW). All of which I even bother bringing up here because I can't remember a book behind which there's been such positive consensus. And I'm here not to trash the book at all, but to toss my hat into the ring with the rest of the cheersquad: Gone Girl is among the year's very best, most satisfying fiction.
The set-up: Gone Girl is the story of Nick and Amy. The chapters alternate—Nick speaking in present tense, and Amy in past tense—in the first half of the book, her chapters are diary entries, though in the book's second half, that changes. The story begins on the day of Nick and Amy's fifth wedding anniversary, though clearly all's not well, as Nick reports on bile rising in him at his wife's kindness that morning. There's this casual disgust on Nick's part that makes little sense: Amy, for the book's first half, is this strange character, a woman we can't help but love or respect or like or whatever, yet a woman whose husband seems to just loathe her. Nick leaves for his bar and, that afternoon, at work, he gets a call that his house's front door's wide open, and he returns to find his wife gone and signs of struggle apparent. Nick, in real time, tracks the developments in the search for his wife—dealing with police officers, dealing with in-laws, dealing with local good ol boys, advocates of a do-it-yourself justice—and does it narratively to us, as readers. As a character, he's fine enough, but the way thngs are written make things fascinating: he addresses the reader, and when he admits to having an affair (a development the reader can see coming for miles, given that he's mentioned but not explained having a disposable cell phone maybe four times by the time the mistress part surfaces), he admits that this admission will make him look bad, and that the reader will lose trust in him. The reason this tick is so fascinating is because, when you first come across it, you may (as I did) believe it's just clunky, glossy postmodernism—it seemed to me, on first reading it, as if Flynn was overreaching, or at best offering a gimicky hook. Without going too much into things: if you find yourself mildly frustrated with the first 100 or so pages, and if it feels weirdly toying and cloying and strange, and the characters a bit stilted, I'm telling you: keep reading. You likely will anyway, because the story's propulsive as hell, but it bears mention that the first 100 pages may make you doubt. Of course as Nick's tracking his wife's disappearance, his chapters are (sometimes cliffhangingly maddeningly) interspersed with Amy's diary entries, which paint her as a saint. Again, without getting too much into things (it'd be a sin to say much about this book; the glories of it are just too fantastic to experience in any hand other than first), the psychic dissonance of how Amy and Nick appear gathers and creates enough friction so that at the book's halfway point, when the story basically explodes, the reader's about as satisfied by narrative as could be imagined. Seriously. I read the book a week back, all in a day, getting progressively more into it and then it just exploded, and my wife from the next room heard me gasp and then just say no way, no way. It's that good. We had dinner at a friend's house that night and I was as tempted to cancel so that I could stay home and read as I've ever been.
            Gone Girl's other details—that Amy's parents are a pair of psychologists who've spilled Amy's life onto the pages of a series of best-selling kids books featuring Amazing Amy (and can you guess whether Amy's got some issues with that fact?); that Amy and Nick've moved to Missouri from New York City two years back so Nick could care for his declining mother (again, issues on Amy's part); that Nick and his sister Margo (who, too cloyingly, is mostly by her brother called Go throughout the book) are the proprietors of a local bar, called The Bar, which bar they purchased with cash from Amy (she has, in the book's present tense, no money left, but had had, before the financial crash, a nice trust fund); that Nick's father is a smoldering mess of misogyny and dementia, a broken man sputtering fucking bitch; that Amy has, every year of her and Nick's marraige, given him a scavenger hunt on their anniversary, and that Nick's always botched them (because he doesn't remember every single detail that she does), but that this year's SH is much easier and Nick gets nearly everything—are honestly too great and vivid to do justice to here. The central narrative of Gone Girl—a husband and wife discovering, five years into their marraige, who each of them really are—is so great that Flynn really, truly did not need to so thoroughly ace the ancillary stuff, yet she has. Each little tiny thing in this book seethes real and appropriate; nothing feels done in a Rube Goldbergian way, though clearly, in a mystery/thriller, that's exactly how plot stuff ultimately has to work, and so that's the real glory of Flynn's accomplishment here: the book feels totally natural, like a story, like a real, human story, not some made-up thing to keep you turning pages. She has successfully hidden all the strings. It's incredible.
I can't say enough about this book. You really will be seeing info about it everywhere, as you should. You'd be wise to heed what everyone's gonna say: read this book immediately. Cancel dinner ahead of time.