Updates + Elsewhere + MADDOW'S DRIFT
by
Weston Cutter
Elsewhere: an interview with me at the Sycamore Review. I'm more and more enjoying talking about MN and writing.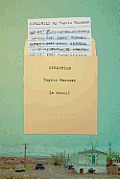 Also elsewhere: recent KR blog posts, including an interview with Tupelo Hassman. Like an idiot, I a bit back posted here about an interview not panning out with Hassman. For those who don't do interviews: maybe 15% of the time, interview questions get sent (over email) and one simply never hears from the artist again. Ever. This is especially bad with bands, I've found. Regardless: I'd just assumed the same'd happened with Ms Hassman, but I'm here glad to report it was easier, just a matter of things and cracks and fallings, and I'll here reiterate, again, that girlchild is a 100% badass book, and among the spring's best fictions, and you're a fool for missing this. I'm still sort of amazed it hasn't been made of a big deal of, but I imagine this one'll find it audience, day after day (seriously, buy and read the thing).
Also in interview news: I emailed with Daniel Torday about his about-to-be-released The Sensualist, which is coming out from Nouvella. I can't say enough good about this book, though it struck me as offering a different sort of satisfaction than I usually track toward fiction to receive. I don't know how to speak real clearly about this trait, or even how to logically articulate what it is I'm talking about. Mostly this: the book simply goes along, on its own, in ways I found sort of startling—its got a generative movement, but I couldn't, no matter how closely I looked, figure out the causality that made it move forward. Maybe the easiest way to articulate this is to say that some books are really obvious in terms of plot movement—the reader's fairly dragged through the narrative, and the narrative ends up being hugely satisfying, of course, though the reader's also able to maybe scan certain late-stage paragraphs, simply because the narrative, building-block aspects of the story have become so crucial it's hard to focus on much else. I'll say here that Torday's book is not something you want to skip a paragraph of, both because a) the writing's wonderfully confident and clean, and b) the plot's motion is not something you can see overtly coming. It's a hell of a thing. Read it.
And now, today: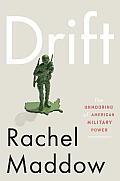 Drift by Rachel Maddow
I neither love nor loathe Maddow. My politics align closely with hers, and I appreciate the hell out of what she does, and probably the only reason I'm not a feverish fan is exposure: I lived years without tv (not for some moral snooty reason, just that I was broke and drank what disposable income I had). I want to establish this stuff at the start simply to make clear that what follows is in no way some fanboy screed in which the book in question is judged according to the merits of its writer in another context, or in how much the reviewier likes the writer.
(An aside: my wife enjoys Maddow quite a bit, and one of the reasons my favorite person so enjoys Maddow is because Maddow doesn't wear jewelry on air. Maddow [my wife would likely argue, I think, and I'd agree] is betting that smart folks don't care about baubles stuck into pierced lobes or dangling across necklines, that smart folks are more interested in the content of the news and ideas being presented than the way the person presenting appears [and that there's some very small but significant and worthy battle being fought by Maddow, a battle about how women are expected to look while on camera]. There are other reasons to enjoy Maddow, but that seems a worthy and great first aspect.)
All that said: holy shit is this a good book. This may in fact be the best policy book I've read in I can't think how long—certainly the last policy-ish book I read this good was Herding Donkeys, though that wasn't policy in this way. Anyway: Drift's subtitle is The Unmooring of American Military Power and I felt a level of oh-my-gosh-yes-exactly while reading it that I haven't felt from any recent nonfiction. The ultimate gist of Maddow's argument is that the way the United States wages war has increasingly become a private, unilateral decision, an executive command adjudicated behind the doors of some secure room in the White House's basement—a decision which, sure, is come to with the help of military and intelligence experts, but ultimately the decision's in one man's hands.
This, of course, is antithetical to not just the constitution, but very much to the spirit in which the founders wrote the constitution: the President, acting as commander in cheif, was structurally prevented from falling under the sway of any war's rush—Congress was given the power to declare war because it was a messy institution with divergent voices, because war is too massive a decision to put it in one—any one—person's hands. Post-Vietnam, Congress moved to present future presidents from being so able to pursure military actions (given how de-fanged Congress'd been made by that fiasco), yet as of Reagan, such Congressional strictures were getting mercilessly end-runned.
And Reagan, for what it's worth, really really does not come across well in Drift. The reader's made to understand that there are structural issues afoot between the President and Congress and who gets finally to decide to go to war, but the scope of Reagan's lying and duplicity is just jaw-dropping (Grenada, Iran, Nicaragua…it's just shocking).
Drift's a real easy book to love—smart, passionate, and, I'd argue, largely nonpartisan. Maddow may be among the firebreathing leftists the right wing likes to believe will lead to this country's undoing, but she comes across in Drift as someone nerdy and insightful and deeply engaged, akin to Sarah Vowell, and she's wonderfully not content to sit back and lazily just point out things's badness: the last chapter's a primer on how we're not stuck, how we're still capable of living up, as a country, to the highest ideas and ideals of who we are. Maybe that sounds sappy, but Maddow actually makes you believe. You're a fool to miss this.