Problems of Solipsism
by
Weston Cutter
On the one hand, I'd like this site to stay relatively a-political—good literature should be about empathy and new views, both of which should be ideals of any political party. However: two books have come out in the past two months which, unfortunately, must be read and considered. Please note that these two books are pretty fantastic—well written, clear-headed, sober; the reason it's unfortunate we must read them is that they're reflections of the increasingly shit political world we're living/suffering through.
The two books are The New Hate by Arthur Goldwag and The Fox Effect by David Brock, Ari Rabin-Havt, and Media Matters. You should purchase and read them both, and, after reading them, you should pass them along to your friends, Democrat and Republican alike.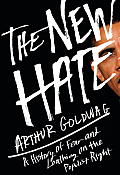 I'll admit at the outset some anxiety even in talking about this stuff, simply because, from all available evidence, anyone writing about politics at present's bound to be furiously bombed + engulfed in comment-flames. That said, we are, truly, in one of the shittiest political worlds any of us have experienced in a long time. It's not just that the 112th congress is among the most do-nothing congresses ever gaveled, or that politicians have now become so polarized that there's no common ground—not even any potentially arable ground—between the most liberal Republican and the most conservative Democrat (really); it's certainly got to do with aspects like those, but among the biggest, nastiest aspects of this political moment is, honestly, how bad-off voters are. We don't know what we want (and, arguably, we're now incoherently dumb about current politics). Five minutes spent watching the circus that is the current Republican nominating contest should provide all necessary evidence (watch the anti-Romney video Gingrich's sugar-daddy Super-PAC guy financed—the thing's more rabid than anything Obama would've done).
So, with all that in mind, where to start about two books which are very good books covering, in excruciating detail, very bad crap. Maybe this: my wife asked what I thought of the Fox book, and I said that it was really, really sad reading, and that I'd been thinking, as I'd been reading, if I'd feel the same way about a book covering some (at present nonexistent) far-left "news" outlet, and I was pretty sure I'd feel just as shitty.
Let's be real clear: however passionately right-wing news consumers believe the media's a liberal moutpiece, owned and run by Rothschilds and Jews and commies and beholden to hippie leftist snobs and elites in power, there is, at present, no left-wing analog to Fox. Whatever your beliefs of the Big Three networks, not one of them takes part in the sensationalistic slanting of facts as does Fox. Further, no network besides Fox has such an unclear (or, better, permeable) barrier between commentary and news—bias and fact, basically. Hate Diane Sawyer, or Anderson Cooper? Fine, but at least they're attempting to, without bias, cover, not create, news.
I understand that covering news is part of a process by which news is created—Kony was abducting children long before the video hit last week, and the flexibility inherent in the enterprise of deciding what's news is what makes it possible for Fox to even exist: they can plausibly hide behind claims that they're simply covering 'popular outrage,' every day, about every single idiotic last tiny aspect of the present administration, in the same way Cooper covers, say, violence in Syria. We're all, of course, free to pick the news we find most compelling or crucial or whatever.
But the difference is that Anderson Cooper has a phenomenal track record of merely and dispassionately and disinterestedly telling the story as it appears in front of him, and he's done so with basically little to no idealogical bent getting in the way of presenting a story. Not so Fox, as The Fox Effect will make stomach-achingly clear. Here's a simple example which also, conveniently, provides something of a litmus, just so you can (if you haven't already) decide how much to give a damn about all of this: when Santelli freaked on the floor of the Chicago Mercantile Exchange, and announced, essentially, the start of all this Tea Partying, Fox not only covered it (Santelli after all worked for them) but began to trumpet the other Tea Parties—Fox continued its move from being an organization which covered news to being an organzation which helped instigate and create news (and of course simultaneously covered the self-created news—why wouldn't it?). Lots of people don't find any problem with this trend; again, we're all certainly welcome to our opinions.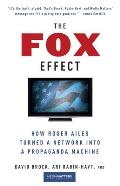 But there is a huge problem with this issue—or, at least, the last 70+ years of journalism are in direct opposition to this Foxy development. I think it's shittily sad that Fox attempts to create news and cover it simultaneously; in other contexts, that sort of shit's wildly illegal (if you're okay with Fox doing this, answer this: how quickly would you want someone prosecuted for, in some massive public context, incessantly speculating about a stock's drop, which public speculation eventually led to the stock's drop? Is that okay, to do stuff like that? I'm being sincere: if you have an opinion on that, please leave a comment). Mostly I think it's deeply sad that Fox manufactures divisiveness for the sake of ratings and an agenda—not because I more often than not disagree with that agenda, but because I don't believe people are suddenly unhungry for news and knowledge, regardless of political orientation. Fox could be serving the same function as, say, Reason, yet Fox chooses, minute after minute, to be this font of the absolute lowest levels of idiocy. Fox is sad because of how measly and small it makes all of us, regardless of political orientation, come off.
And look, the truly execrable stuff Fox does has nothing to do with manufacturing news, either. Fox lies, period. That whole ACORN bullshit, about that worker who gave info to a supposed pimp about how to run a brothel? She claimed, in her (hugely-edited) response, to also have killed her husband, and she gave the info about how to run a brothel in jest—she noted, in later interviews, that she understood the f-tard idiots from Brietbart were clearly staging something, and so she played along. Not only that, but the Fox crew decided, after the video aired, to question, over and over, if maybe this woman had really killed her husband—though she'd been divorced twice, and both of her husbands were in good health—and they claimed nobody had investigated any of it, though the police in the town she lived in, in fact, *had* investigated. The problem ultimately isn't whether or not Fox has the integrity to ensure a more solid and separating line between its news division and it's entertainment division, or whether it's got the decency to cover news instead of helping to promote very specific news stories which promote its agenda—the problem is that Fox lies. Period. (Here's a fun and simple example: Fox derided the shit out of ACORN—and [successfully] led a campaign to get their funding cut—for submitting voter registration forms which were clearly false. The best example? A voter registration form in Florida under the name of Mickey Mouse. ACORN, let's not forget, is a community organizing group, and they do voter drives, of course. So: they did drives in Florida, got some real registrations, got some fake ones, including one for M Mouse. Fox went to bat, cackling at how many resources ACORN was wasting in submitting such an obviously false form for verification. The problem? Under FL law, every single damn last voter registration form must be turned in; if not, ACORN could've been fined $1000/form not submitted. So, here, Joe Q Public, is the question: is ACORN awful and wasteful for submitting the form, or are they just trying to follow the fucking law? And further Q: if ACORN *had* withheld the forms, can you imagine the Fox story then—ACORN BREAKS THE LAW, right? From lying about death panels to claiming legislation will lead to America's ruin to hyping a nonexistent potential for financially bankrupting the country, Fox is over and over just fucking flat-out lying. We're an embarrassment as a country every time we pretend to use anything but the harshest language about this.)
And here's where the double-whammy of these books comes in: Arthur Goldwag's The New Hate helps lay bare and make excruciatingly clear why the populist right is what it is at present. Honestly, The New Hate is a riveting read, but you're well served by approaching the book with Hofstadter's "Paranoid Style in American Politics" in mind. The New Hate is, hugely, a useful book—if you're just coming to (socio-political) consciousness and want to understand how we've moved in the ways we have for the past decade+, this book's where to go. I think Goldwag would back this up as well: his book's an iceberg's tip: he in this interview talks up Hofstadter, and Goldwag would (I'd imagine) be the first to agree that his book should be read as a primer or roadmap showing that things now are, yes, truly bad, but aren't outlandishly different—there's always been hate, there's always been this racism (come on, food stamp president? Seriously?) and sexism in right wing politics, it's just that now it's far more virulent, and far more scary.
Most striking about The New Hate, at least in conjunction with The Fox Effect, is this level of solipsism that's evident on the part of right wingers, this faith that events are all about them. Watch Fox, or read a far-right newspaper (the Washington Times, say) or blogger (guh…Malkin)—to a one, right-wing info outlets tell or report stories in tones of total grief and attack. It's not that the Obama administration is messing with health care in this country, it's that the Obama administration will ruin the country with its health care measures and is trying to kill you. It's not that Chris Rock shoved a photographer after being cornered (at Sundance, at what's clearly a social gathering, at what's clearly the venue's equivalent to a backstage) about his views on the Tea Party's racism, it's that "Chris Rock Attacks Conservative Author Over Tea Party Question."
The saddest part about this sort of thinking is how terribly lonely and self-centered it must be—to view the world, day after day, as a place in which everything's an attack on you, on your beliefs + worldview. Weirdly (or not), DFWallace addressed this exact sort of thing in his This Is Water (download the audio, don't buy the book)—the fact that it takes work to get away from (this is paraphrase) the hard-wired self-centeredness we all have (in that interview way back with the Believer, he said something like "it's a comforting delusion to believe everyone with whom you disagree is a total asshole" instead of having to do the work and see those with whom we disagree as legitimate folks with legitimate concerns and valid ideas and thoughts. Which, of course, is another vector of sadness about Fox and the rest of the right wing media: they're not only lying and sensationalizing and all the rest, but they are, in the worst way, peddling empty info-calories. They sell the most sugary, candy-based news there is. Almost none of what they provide is nutritious news—the bulk of it is aimed at keeping people engaged with their fears and biases instead of trying to help America become a great place again by having an populace engaged with big, complicated ideas—and, most crucially, a populace engaged with each other, all our neighbors, even—especially—those with whom we disagree.
I don't know what to say. These two books make me more depressed than I can properly articulate. The worst part? The mere existence of these two books will (I guarantee) be used to prove that the left 'controls' the media—because both of these books have been released by large, significant publishing houses (the last chapter of The Fox Effect is, in fact, about Fox's attacks on MediaMatters. I don't know how to fight this. Glen Beck's usually the idiotic one to fake a tear about how the country he loves is being torn apart, but read these books and try to keep faith, try not to cry. I'd like to believe I let go of my angry young man act a bit back, but it's still here, and it's still fueled by the sort of idiocies and lies that politics seems to attract.