by
Weston Cutter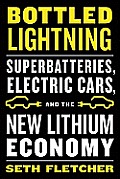 Bottled Lightning by Seth Fletcher
Last year's Herding Donkeysis the book that the experience of reading this book came closest to: a book I cracked, sat on the couch thinking casually this'll do for now then found myself hours later still riveted, unable to focus on much else. Herding Donkeys was of course a fantastic, brisk and informative tracking of the rise of the democratic party starting with the lead-up to the election in '04 (earlier, to a degree, but mainly, think Dean); Bottled Lightning's a fantastic, brisk and informative dual tracking of both 1) the use of electricity to power an automobile and 2) the present and potential future of lithium ion batteries. Aside from the little info nuggets you'll pocket in reading the book (first big industrial investor in Lithium batteries? Oil companies. Present soft drink which originated as a lithiated beverage? 7-Up), the most useful thing Bottled Lightning will offer any reader is something like a framework for understanding out present energy moment, how we got here, and what might come next.
First: fear not, this book is not polemical, is no tirade. Fletcher's not out to demonize anyone. I'm sure global warming comes up in the book, but I honestly can't remember it, which is just to say that Bottled Lightning will (hopefully) help reframe the socio-political connections a reader might make between, say, a Prius driver and that person's propensity to vote in certain ways (if Nocera, the fracking apologist, can so glowingly write about liking the Volt, there's hope for us all). Sure: the reader needs to bring a decent amount of knowledge and info to the reading table to fully appreciate how significant it is for the future of the US's middle class that there be easy transportation (seemingly, specifically, automotive transportation [/shakes head sadly about the lack of infrastructure funding for trains/]); still, just the info and technological background on batteries and the development of lithium ion is riveting enough.
Enough about the more political aspects: what's massively cool about Bottled Lightning is the depth Fletcher offers about the development of modern batteries. It seems to me relatively easy to overlook or not think much about the insanely rapid dwindling of cell phones (thanks, lithium!); it's also easy, at least for me, to forget that, along with the tech advances each year and iteration of whatever yr pocket-computer of your choosing, there are advances in batteries being made. Think about that for a second—better, think about that for a second after you've spent a full minute considering the fact that, aside from carbeuretors being replaced by fuel-injectors, there's been almost no change in the engines we use in our cars since the advent of cars. That fact alone should make everybody jump up and down about the potential for lithium ion batteries (I keep saying lithium ion, by the way, because just saying 'lithium' wouldn't be enough—there were generations of lithium batteries that existed, with different technology, before there were today's [or this decade's, really] lithium ion batteries, which history Fletcher traces with clarity and grace, which is saying something; you may not end up understanding every last detail of the science involved in these batteries, but you'll have, I'm guessing, a better grasp on it than you presently do).
Not least, Bottled Lightning does a quietly wonderful job of highlighting the fact that, should lithium end up being the essential component of our future's automotive (and otherwise) power needs, the middle east, yes, will suddenly prove less globally significant…but that doesn't remotely ensure geo-political stability (given that the largest supplies of lithium are in Bolivia and Chile, it's worth taking some time to consider how their politics might influence the global Li supply).
That might be a good way to talk about this book: it does, page after page, a quietly wonderful job of telling a riveting, vital story. You'll probably not read a more fundamentally useful book this year.