by
Weston Cutter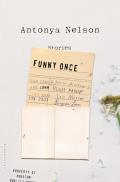 I realise by doing the following I'm precisely part of the problem and not the solution, but: holy hell does Antonya Nelson deserve more praise and attention. The claim she doesn't have enough of both is, in fairness, somewhat hard to 100% support: stories from this collection have appeared in the very very best mags (most recently Harper's), so it's not like she's some gooberish nobody, okay, fine, sure, but still: is there a phrase or term for the club of gathering of writers whose work should be much more read and appreciated (and, maybe, would be more read/appreciated if we didn't like in such quick-quick-do-the-next-thing times? Obvious other candidate from this summer's releases: Dybek), and then, once that club's named and identified, can we all go to work getting that club disbanded through the best possible way, i.e. reading those folks?
Here's why Antonya Nelson's so great, by the way: her sentences are lithe and charming and conversational (opening at random, here's page 6: "As was always the case when he and Bonita spoke to each other—neither remotely fluent in the other's language—the information exchange was crude yet functional." [there's also this, from later in the same story (which story's called "Literally" and opens the book): "This has been a terrible day," Danny said. "Even though nothing exactly bad happened."]), and so the joy's linguistic, certainly, but the thing I get from Nelson in spades that almost everyone else doses out in crumbs is the overwhelming humanity of her stories. Maybe that sounds lame-o and blasé. I don't know. I don't think it's a trait I cared as much about five years ago, but now, dead-center in my thirties, as someone both trying to make writerly stuff that's got some humanity and as a reader who's hankering for humanity in art increases on the daily, Nelson is just it, laying banality raw and gorgeous in her stories in ways I at least am astonished by the first three or four times I read them (truly: in quoting from "Literally" above, I got dragged back in, amazed by the story anew).
There's a moment in "IFF," maybe my favorite of the collection, in which the narrator's mother-in-law (who lives with her [lots of crossed/blended families in here, though even just writing that I'm surprised to admit it, surprised that it even registers—it's not, like, a thing, but it's there]) says "'It's the only saving grace of not being a mother,' she said to me once. 'I have permission to kill myself. You don't.'" Amazingly, the story is sort of about (or at least interested in) this mother-in-law's eventual suicide (which the narrator accepts and understands and just writing this makes it sound weird—in Nelson's hands the whole idea's art) but not in some central way: the story's overtly about a missing daughter in a neighborhood in the desert southwest, and, larger, about responsibilities we have to our families (both of blood and choice). "IFF"'s a stunning story, of course, but that's not even very fair because they're all fucking stunning, they really are. That feeling you get reading, I don't know, Munro (and Dybek, certainly)? Where basically every story just clicks along and both gives you something and knocks you sideways? Big ditto. Hard to imagine a list of writers whose work puts them deservedly on such a list getting to be longer than a dozen. Can't be many. Nelson's one of them. Do yourself the obvious favor here: read her.